Alright guys, do you know what my favorite thing in the WHOLE WORLD is? End of the year lists!!! I love them soooooo much, and now that I have this blog, I'm going to be putting together 3 lists: My top albums, songs, and movies of 2012! So, without further ado, let's kick this off with my
Top Five Albums of 2012
!
First, let's look at the runners-up for my
Top Five Albums of 2012
. These are albums I really really liked, but not as much as some other albums! They're all excellent and I highly suggest you listen to them.
Runners-Up
:
-
151a
by Kishi Bashi
-
Banga
by Patti Smith
-
Bloom
by Beach House
-
The Bloom and the Blight
by Two Gallants
-
The Carpenter
by The Avett Brothers
-
Electra Heart
by Marina and the Diamonds
-
Forever EP
by Haim
-
Fragrant World
by Yeasayer
-
The Heist
by Macklemore & Ryan Lewis
-
Here
by Edward Sharpe & The Magnetic Zeros
-
The Lion's Roar
by First Aid Kit
-
The Lumineers
by The Lumineers
-
The Paradise EP
by Lana Del Rey
-
Sun
by Cat Power
-
Tell The Right Story
by Harriet
-
What We Saw from the Cheap Seats
by Regina Spektor
And now, the Top 5!
5. channel ORANGE by Frank Ocean
My first taste of Frank Ocean came along with Kanye West and Jay-Z's 2011 album
Watch The Throne
, where he was featured on and co-wrote two tracks, "Made in America" and "No Church In The Wild," the latter of which was one of my favorite songs from the album. I had heard a lot of really good things about this album, and had planned to get my hands on it eventually anyway, but as soon as I heard the news about his big confession, I absolutely HAD to buy it from iTunes. In case you don't know what I'm talking about, Frank Ocean made big news in the music world when he released a blog post about how he had fallen in love with another man. When I read about this online, there was a link in the article to his performance on Jimmy Fallon of the song "Bad Religion". By the time the song was over, I was in tears. I challenge you to watch the video and not be in the same boat.
This song in particular resonated with me, and I completely fell in love with him. To be an openly queer man in the music industry today is such a brave thing to do, and he's an inspiration. Now, the album itself,
channel ORANGE
, is also brave, because Ocean puts so much of himself into it, emotionally and creatively. I have never, ever heard an R&B album as stylistically diverse as this one, from the sweet and sexy "Thinkin Bout You", to the straightforward and classic "Sweet Life", to the ambitious and trip-tastic "Pyramids". The little interludes in between songs, like the opener "Start" and the 1:16-long guitar solo by John Mayer, are reminiscent of his 2011 mixtape
Nostalgia, Ultra
, and they added a little bit of stream-of-consciousness to the album. I love how dreamy the album is, and Ocean's voice is pretty much unparalleled in R&B today. I know I'm not alone in thinking this, because
channel ORANGE
has been consistently included in many people's Top Albums of the Year lists, often in the number one position. This, however, is not a list of the BEST albums of the year, but rather, my favorite ones. And there are a few I like more! Including...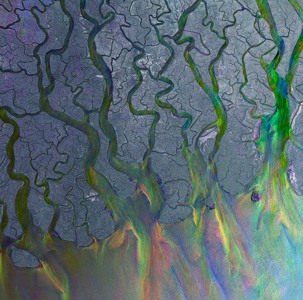 4. An Awesome Wave by Alt-J
I heard this album pretty late in the year, after hearing the song "Fitzpleasure" on one of the many music podcasts I listen to (I think it was KEXP's Song of the Day, which is great and which everyone should subscribe to). I picked it up on a whim, on one of the many hunts for new music which I am inclined to indulge in. As soon as I downloaded it, I could NOT. STOP. LISTENING TO IT! It's amazing. It's beautiful. I love it. And it won the Mercury Prize! I'm not gonna lie, it feels nice when your music tastes are validated by things like awards and other people's Top Albums lists (see
channel ORANGE
above), even if these things don't necessarily
determine
what you like or dislike. I trust my own preferences, of course, and even if critics all over shit on one of my favorite records, that won't stop me from liking it. But, it's nice when they agree!
Part of the reason I love this album so much is lead singer Joe Newman's unusual yet compelling vocal stylings. It ranges from weird and unsettling, like at the very end of "Breezeblocks," to very, very sexy on "Tessellate." "Breezeblocks," "Tessellate," and "Fitzpleasure," by the way, are my favorite songs from the record, but I don't think there's a single song that I really dislike. There was a period, about a month long, where I
had
to listen to "Breezeblocks" every day or else I would pretty much go through withdrawal symptoms. I also really loved "Matilda" and "Dissolve Me," especially the repeated line "She makes the sound the sea makes, knee-deep in the north sea." I don't know why, I just really really liked it! This is just an awesome record, okay? BUY IT IMMEDIATELY.
3. Born to Die by Lana Del Rey
If you do not pretty much worship the ground that Lana Del Rey walks on, you can leave. Right now. Not really, of course, I love you all, but seriously, Lana Del Rey is a magnificent goddess who can do no wrong (except for "Dark Paradise"... just skip that track). This album came out very early in the year, and a few of the tracks were actually released even earlier, on the Lana Del Rey EP. The single "Video Games" was released even EARLIER, in 2011, and actually appeared on many Best Songs of the Year lists that year. I bought the Lana Del Rey EP, and I remember listening to the songs over and over and waiting for Born to Die to come out so I could hear even more. As soon as I got it, I burned it to a CD and listened to it on the way to school literally every day for about two months. I cannot get over this album.
Lana Del Rey actually has stirred up a lot of controversy for various reasons; her supposedly "manufactured" persona, her song lyrics, which can often seem extremely contrived and a little sexist, and her pretty terrible SNL performance. But who cares about any of those things?? What's important is that Born to Die is a terrific album. It's just fun to listen to her sing about boys in "blue jeans, white shirt" and reminisce about being a delinquent teenager and hanging out with her female friends. It's fun! Not to mention my girl LDR has a voice to die for. It's so sultry and smooth, and I like when she sings in a higher tone, too. I like how she writes her songs, too - "He loves to romance them/Reckless abandon/Holding me for ransom/Upper echelon" or "Glass room, perfume, cognac, lilac fumes/Says it feels like heaven to him". These lyrics are kind of silly and poetic in the most shallow way, but I love them! I love the atmosphere of all the songs as well; when I listen to Born to Die, I think of America and Old Hollywood and being a teenager who behaves as if they are more mature than they actually are and I just really love Lana Del Rey and also this album.
2. The Idler Wheel Is Wiser Than the Driver of the Screw and Whipping Cords Will Serve You More Than Ropes Will Ever Do by Fiona Apple
Is it weird that I had never really heard of Fiona Apple until this year? I mean, I had heard her name before, because
Pleasantville
is one of my favorite movies and she covered "Across The Universe" for it, but other than that I didn't really know she existed. I wish I had, though, because she's AMAZING! In all honesty, I didn't like this album too terribly much the first time I heard it, but I had heard that it gets better the more you listen to it, and that was 100% true! After having listened to it approximately ten times all the way through since I've had it (I only got it in September), I LOVE IT! Fiona Apple is such a creative songwriter, and this album feels entirely cohesive even though the songs vary a lot in their style and sound (for example, "Hot Knife" and "Valentine" sound pretty different, but the fact that they are on the same album is not surprising in the least). Why didn't anyone tell me about Fiona Apple before??
Anyway,
The Idler Wheel
. I love the atmosphere of this album, first of all. It's an unusual combination of world-weariness and novelty, of bitterness and childlike innocence. It's terrific, lyrically - some of my favorite lines are "If I'm butter then he's a hot knife/He makes my heart a cinemascope/He's showing the dancing bird of paradise" and "I'm amorous but out of reach/A still life drawing of a peach." The song "Werewolf" is totally fabulous in this regard; every line and metaphor is filled with pure emotion, especially "Nothing wrong when a song ends in a minor key." I FREAKING LOVE THAT LINE GUYS. Fiona Apple has clearly had a lot more life experiences than me (she is almost twice my age, after all) but even though I've never done half of the things she has, she writes about them with such authenticity that I feel like I've experienced them. Her descriptions of destructive relationships make me feel like I've been in those relationships with her, and I've been in ONE relationship, guys. She's spectacular.
And finally, drumroll please...
1. Making Mirrors by Gotye
YAY GOTYE! I think this was really my dear darling Wally de Backer 's year - he's been making music for years and years, but he had never really hit it big internationally until "Somebody That I Used to Know," which everyone in the English-speaking world has heard, and if you haven't,
what is wrong with you?
There's a reason it was number one on SO many charts in SO many countries for SUCH a long time - something about the music and the lyrics, combined with the raw power of Gotye and Kimbra's voices bouncing off of each other, speaks to virtually every single person who listens to the song. I remember when I first heard it, and it drilled its way into the emotional center of my brain. I physically couldn't restrain myself from listening to it. I'm fairly certain I listened to it 100 times within three days after buying it off of iTunes, not to mention how many times I watched the video. For a second I thought I had actually fallen in love -
fallen in love
- with a song. It was intense.
After a week or two of desperately waiting for
Making Mirrors
to arrive at my local library so I could steal it, it finally came, and I devoured it. It was in my car stereo pretty much 24/7. I made everyone that I took home from school listen to it everyday. Even when everyone else was getting really sick of Gotye, I forced them to listen to "Somebody That I Used to Know" and to sing along with me. There is no way I will ever get over this album. Ever.
Okay, now to talk about the album. Phew. Let's see if I can put my love into words. One thing that will pretty much guarantee I like an album is *~*~motifs~*~*. I freaking love motifs, which is part of why Arcade Fire's
The Suburbs
is my favorite album of all time. Some motifs that I've noticed in
Making Mirrors
are, kind of obviously, mirrors, but also windows and watching people/being watched and just
seeing
in general. Seeing yourself, how others see you, how you see others. These songs are all really beautiful, and the way Gotye combines these motifs with music are just sublime. The album ranges from really happy, cheerful songs, like "In Your Light," to the familiar bitterness and anger of "Somebody That I Used to Know" (although those two emotions aren't nearly sufficient to explain the range of THAT song), to the forlorn resignation of "Bronte" (one of my favorites). I also really, really love "Giving Me A Chance" and "Eyes Wide Open." I just can't believe it's taken this long for Gotye to get the attention he deserves. He clearly wasn't just screwing around with his two prior albums, because
Making Mirrors
is the work of a true artist. And it's my favorite album of the year!
Alright guys, thanks for reading! Come back tomorrow to read about my
Top Ten Songs of 2012
!