Woooo Grammy's!!! I'm sitting here with a bunch of my friends watching The Black Keys perform and soaking it in guys, soaking it in. Let's get to the list!
1.
Fall Out Boy's new single!
- When me and my friends heard that Fall Out Boy was back, it was pretty much a college-wide celebration of the greatest band of our middle school years. "My Songs Know What You Did in the Dark" is different from anything FOB has done before, but I think it's a part of the natural trajectory they've been on for a while and I absolutely love it.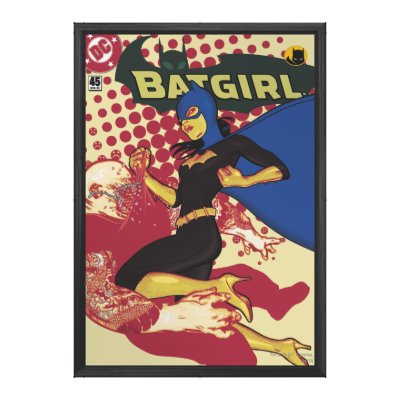 2. This great poster from Zazzle - I have a pretty high Klout score, so I got a free poster from Zazzle! Batgirl is a personal idol of mine, and this poster is of the cover of Batgirl #45, illustrated by James Jean, who is a brilliant artist. Yay for awesome free stuff!
3. Le Havre - The Floyd Theater is showing a bunch of French films this month, and I went and saw Le Havre on Thursday. It was really adorable, and the visual style was really cool! Good movie, guys.
4. The trailer for From Up On Poppy Hill - I am a big, big fan of Studio Ghibli films, and I was a little worried about Goro Miyazaki's new movie after seeing Tales from Earthsea, which was pretty bad. But From Up On Poppy Hill looks really really good! And it has an all-star cast. I'm definitely going to see this one.
5.
Guillermo Del Toro's take on The Secret Garden
- I'm psyched for Guillermo Del Toro to collaborate with Lucy Alibar, writer of
Beasts of the Southern Wild
, on this new version of the classic novel. You can read more about it
here
. Del Toro's
Pan's Labyrinth
and
Beasts
are both about strong young women, so I think this movie could be really great.
6. Community's glorious return - Community came back this week! Guys it looks like Season Four is gonna be really good. Community, how I love thee.
7. Tegan and Sara's "Closer" video - Guys, Tegan and Sara are so great. I can't wait to get my hands on Heartthrob, but until then I'll just listen to "Closer" over and over again.
8. Smash Season 2 - Smash is one of my favorite guilty pleasure shows, and I'm really excited for this season! Guys, there is DRAMA so far. DRAMA.
9. The trailer for 1D3D - Okay, yes, I love One Direction. And you know what? I will not apologize. I am stoked to see this movie about them and I am guaranteeing right now that I will cry. I LOVE THEM.
10. The 55th Annual Grammy Awards! - I'm watching it right now and it's been alright so far! Not everyone I wanted to win has won, but Frank Ocean has, and that's pretty much all that matters to me.
Bye, guys! Gotta get back to the Grammys! (And my homework...)